Welcome to The Fun In Functional, the weekly link party hosted on Practically Functional!
If you're new here, I throw this party once a week on Wednesdays. It's a place for you to see some awesome projects and find some inspiration. And if you're a blogger, you can link up any projects you've been working on for the past week and show off your creativity!
Before we get started, I have made a few minor changes. Instead of having to scroll all the way to the bottom of this post, you can now grab a party button or a featured button from the sidebar! And I also made a minor change to the party button. So if you still have the old one on your site, feel free to grab the new one below! (Or, from the sidebar!)
So here we go! Last week's most popular project were the individual rainbow cakes linked up by Lisa from Wine And Glue. How cute are those?!
And here are a few of my favorite projects from last week. Check them out!
Remember, if you want to pin these projects, please click over to their blog first! I've made these images "un-pinnable" so they aren't accidentally pinned from here. If you want to learn to make your own images un-pinnable,
check out this simple tutorial
.
[hr]
Heidi from One Creative Mommy shared a fun pull string piñata made out of a paint can. Sounds like it's a lot safer than having little kids swinging bats around, plus this way everyone can feel like they were the one to break open the piñata!
Nicole from Wonky Wonderful shared a recipe for carrot cake ice cream. Carrot Cake Ice Cream!!! Yum!
Amber from Salt Tree shared a simple tutorial for a layered felt and fabric flower brooch. It's such a cute and elegant way to make a fabric flower, I love it!
Crystelle from Crystelle Boutique made adorable kitchen art out of a pizza paddle. How fun!
Barb from Second Chance To Dream shared a tutorial for making your own herb-infused olive oil. We have plenty of herbs from our indoor garden so this is perfect!
Jessica from Sewing Our Life Together added a splash of color to her bathroom cabinet. It's so simple and fun, and you could use her tutorial to add color to the back of any shelf!
Jacque from The DIY Village shared a simple tutorial for making a halloween doormat. How cute is that thing?!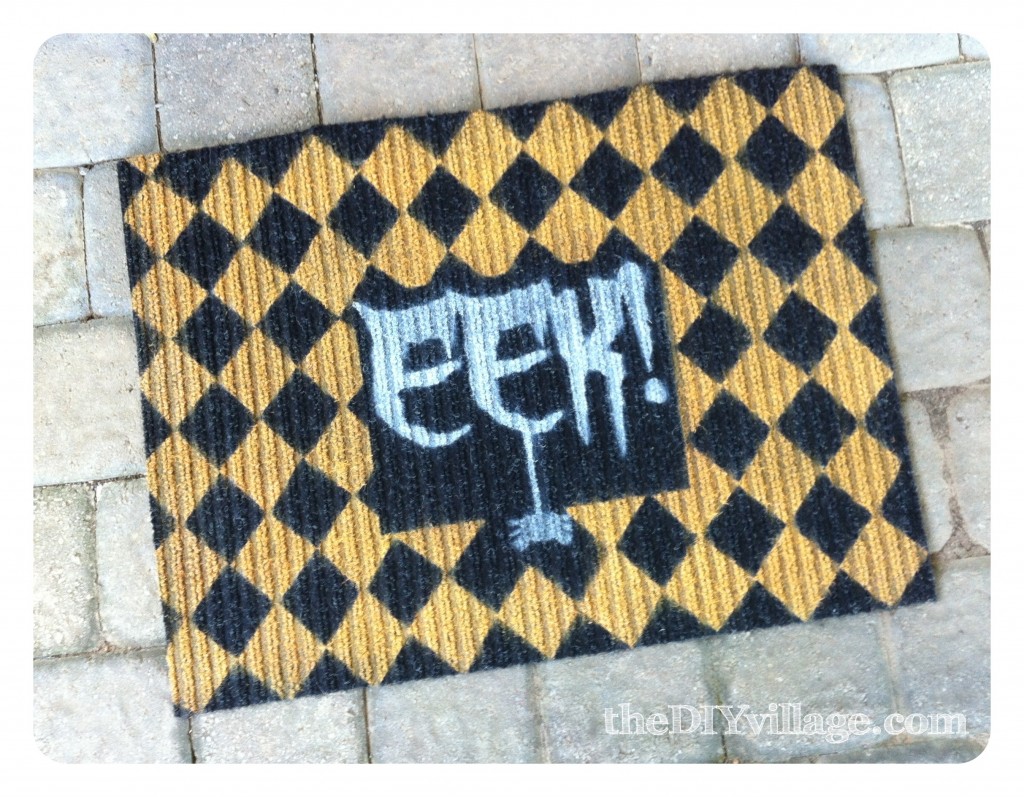 Susan from Organized 31 shared her "no excuse" chore cards. What a brilliant idea to make sure your idea of "doing the dishes" is the same as your kids' idea! (Maybe I'll make one for JM, we always disagree about what "cleaning" means :-p JK, love you honey!)
Congrats everyone! If you were featured, feel free to grab a Featured button from the sidebar and add it to your blog!
[hr]
On to this week's party!
Just a few guidelines to keep it fun, friendly, and fair:
Please only link up things you have created that you haven't linked up before. Please, no etsy shops, giveaways, link parties, etc.
Make sure you follow the Practically Functional blog so you know when to come back and party each week!
Help spread the news! Grab a link party button from the sidebar and share it on your project post, sidebar, or link parties page so others can come join the fun!
Stay and mingle for a while; visit a couple of other posts and leave a nice comment letting them know you stopped by from this party. We all love new visitors, comments, and link party love!
HAVE FUN!
I will be featuring a few of my favorite projects each week, so by linking up you are giving me permission to use one photo and a little description (with a link back to you of course!) in a Featured post.
Only projects with a link back to this party can be featured, so grab a button!
I will also be pinning my favorite projects and features to my Pinterest boards, so be sure to follow along there to see all the crafty goodness
Link up any crafts, tutorials, tips and tricks, ideas, recipes, DIY projects (anything really!) that you have been working on recently that you want to share.
I can't wait to see what you've come up with!
The following two tabs change content below.
Hi! I'm Jessi, the blogger behind Practically Functional, a blog about simple, practical projects and ideas to help you love your home, no matter where you live! I decorate, I craft, I DIY, I build, I organize, I cook… I even garden in our tiny 650 square foot apartment, and we love every single square foot of our little home! And Practically Functional can help you love yours too, no matter where you live! Make sure you
follow along by RSS
or
subscribe by email
so you don't miss anything!
Latest posts by Jessi Wohlwend (see all)